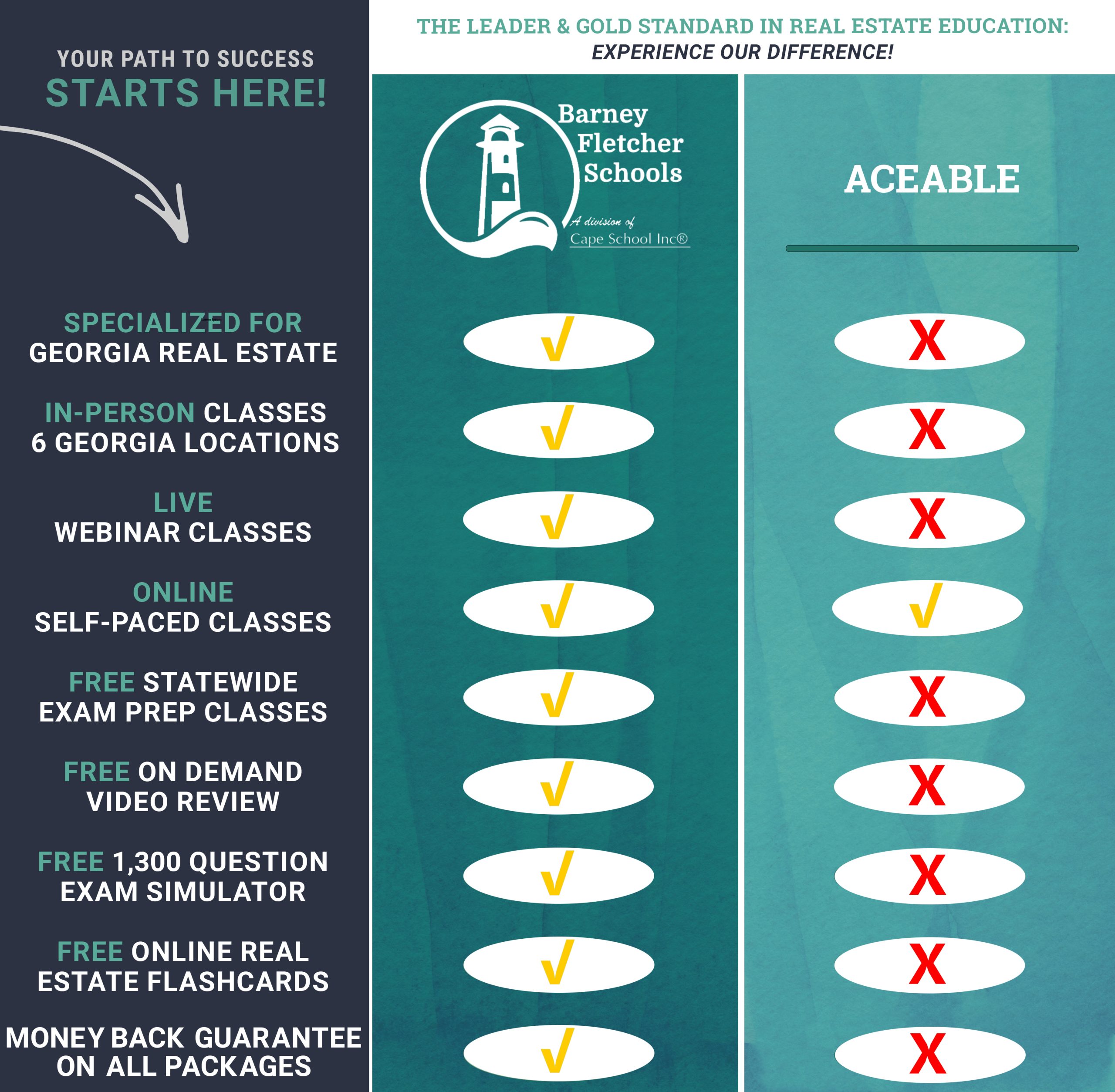 Why Choose Barney Fletcher Schools Over Aceable?
Barney Fletcher School delivers the best experience for real estate education in Georgia, for the best price. Competitors like Aceable don't compare to the experience that Barney Fletcher Schools provides.


As Georgia's original real estate School, Barney Fletcher is the true leader in real estate education. With more than 40 years of experience, we teach our own time tested and proven curriculum. We are also based ONLY in Georgia, so everything we do is specific to the Georgia real estate market. Our national competitors, like Aceable, cannot say the same. In fact, Aceable only offers online courses because they're not based in Georgia. Barney Fletcher students are educated by Georgia based professionals who specialize in Georgia Real Estate.


Barney Fletcher offers flexibility through a number of course formats, providing options for online self-paced learning, as well as live webinar, and in-person courses in six Georgia locations—with more locations to be added soon!


Barney Fletcher Schools provide value. Our best-in-class exam prep tools are superior to Aceable's, and all of Barney Fletcher's exam prep tools (a 1,300 question exam simulator, online flashcards, on demand videos for review, and more) are included for FREE with the price of every pre-license course. Aceable charges a premium fee for its exam prep tools, which simply don't match up to the tools we provide
In-Person Classes, Live Webinar, and Online Self-Paced Options
Barney Fletcher has the most comprehensive options for pre-license classes to fit your schedule and lifestyle. While many of our competitors, including Aceable, only offer online self-paced courses or live webinars, Barney Fletcher provides more options. In addition to our online and live webinar options, we have live classes available in 6 locations in Georgia. Additionally, if you sign up for one format of a course and decide it's not for you, we offer the flexibility to change to a different version during the course. We are here to help you pass the Georgia real estate exam, in whichever learning style is best for you..
Free Statewide Exam Prep Classes
Barney Fletcher Schools offers statewide live exam prep classes taught by professionals in the field. Our exam prep classes provide a comprehensive review of the most important topics you'll need to pass the statewide exam. This 12 hour class is included in the price of every pre-license course. With 50 locations throughout the state, it is easy to find a location convenient for you. The added benefit of instruction from Georgia real estate professionals can provide a support system, and is also a great networking opportunity for anyone who wants to break into the Georgia real estate market. (A $90 value included FREE with tuition)
Free On Demand Video Review
Our "Learning Through Questions" preparation tool presents exam-type questions in on-demand video format. Stop the video to answer the questions, and then review an instructor's explanation of the answer and how to solve the problem. This tool also includes a section of real estate math questions and exam-taking tips. Aceable can't touch the detail, flexibility, and insight we provide you in this on-demand video format. (A $90 value included FREE with tuition).
Free 1,300 Question Exam Simulator
No one has a practice exam as comprehensive as Barney Fletcher—our questions and materials are superior. With over 1,300 questions, and no limit to how often you can take it, our practice exams will get you ready for the Georgia real estate exam better than anything Aceable can provide. No exam is ever generated the same way twice! Our exam also provides detailed explanations for questions answered incorrectly. This is included for FREE with every pre-licensing course. (A $99 value included FREE with tuition)
Free Online Real Estate Flashcards
Barney Fletcher has its own deck of online "flashcards" for studying, utilizing 500 of the most common real estate terms and phrases. This tool is a helpful way to test your knowledge and the practice the terminology of real estate. (A $49 value included FREE with tuition)
Barney Fletcher offers an experience that none of its competitors can match. Aceable isn't based in and customized for the Georgia real estate market, and therefore can't connect students with existing agents, doesn't have the exam prep tools included for FREE in their course curriculum, and just can't offer an education that best prepares students to enter the Georgia real estate market. We are so confident that Barney Fletcher Schools is the best school for you, that we are offering a PASS YOUR EXAM MONEY BACK GUARANTEE if you don't pass your licensing exam on the first try!

Looking for the best start to your real estate career in Georgia? Find the best course choice for your lifestyle here, with Georgia's original real estate school, Barney Fletcher.